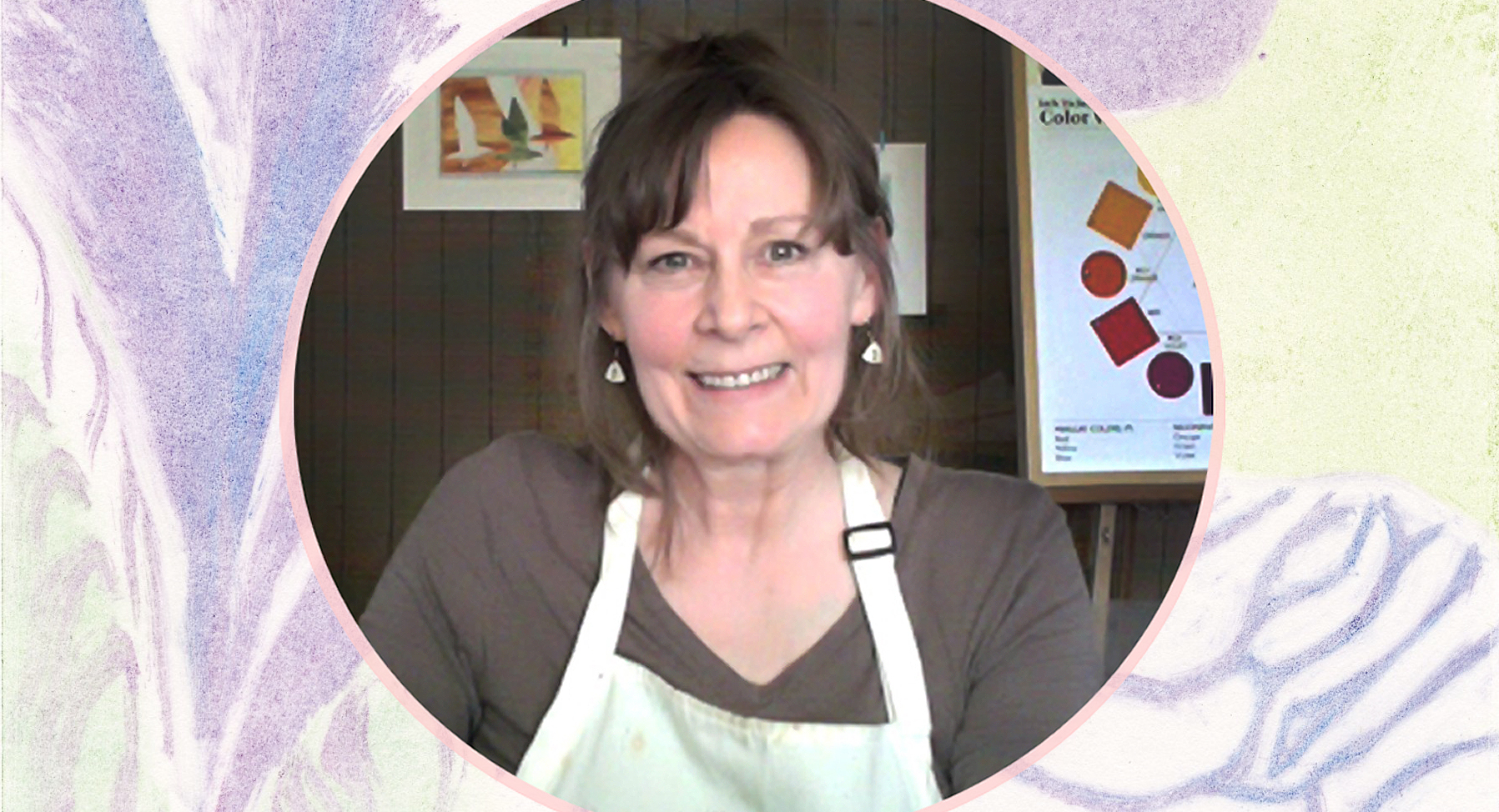 From Rhonda at Horton House Press, Alaska
Art, Fear, Awe and Abundance
Please allow me to introduce you to something very new to this world and new to our home. Pépin and Talulla are baby Diamond Doves we brought home to Alaska all the way from the Blue Ridge Mountains of North Carolina after attending a Gathering of Artisans conference.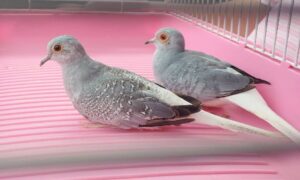 The names Pépin and Talulla came to me after learning about walking in creativity. I am celebrating living in awe and abundance, which became more real to me these past 30 years or so as I worked on numerous art projects.
I have learned to step out of the old and step into the new–to go forward and not backward–when it came to putting anything down onto blank paper, or making the first cut into expensive materials, fear had to leave.
To counter fear I have learned to not succumb to the thought of "lack," which would have me believing there is not enough–to not allow fear to cause me to put materials before the making. There is abundance, and I will walk in awe and inspiration when making art.
A Journey into the Blue Ridge Mountains
Not very often do we Alaskans make our way to the lower 48 during our short summer months from June through August, but this year was an exception with travel credits for the art conference in August.
We had the fortunate experience to visit two thriving art communities with gallery and studio tours in the Blue Ridge Mountains and take a one-day stained glass workshop together, which we don't usually do–Rich being more of a musician, mechanic and craftsman–not so much into the visual arts. So this was new territory for him, as well I hadn't done stained glass since 1981.
Rich and Rhonda working on stained glass ornaments using pre-cut glass. "This Way" (left), by Rhonda and "That Way" (right) by Rich
Ashville's River Arts District and the town of Leicester were filled with artists who shared their history and love of the land, along with their arts and crafts, demonstrations, studio work and gallery exhibitions.
From shared spaces in old red brick factories, renovated storefronts, community centers, farmlands and vineyards, as well private homes and generational family businesses we made our way to see all that was possible within two days.
Everything from fiber arts to wrought iron hooks, metal sculptures, enameled light switch covers, pictures, hand built ceramics, pottery and all that could be imagined were found for our muse and purchase.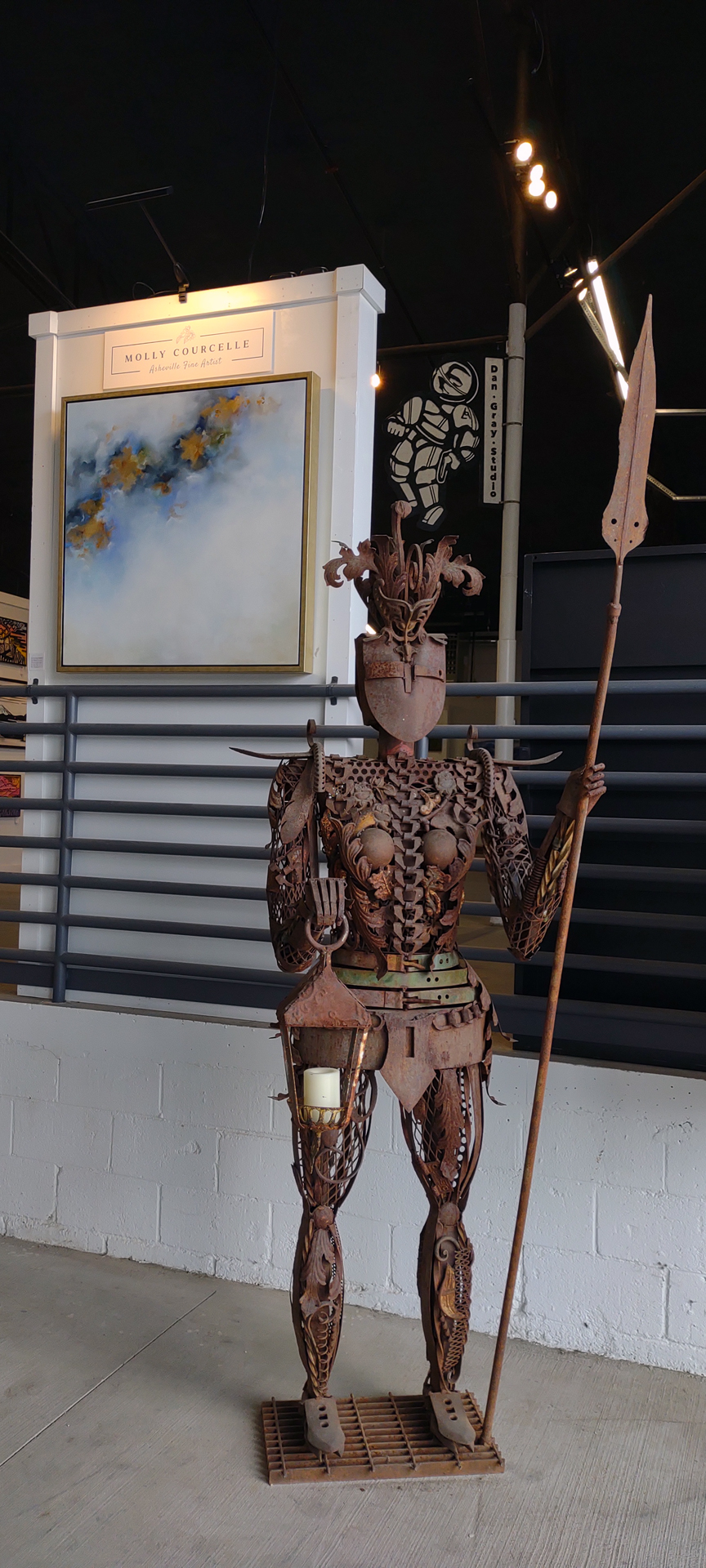 Clockwise: Giant metal sculpture of a knight and local art; outdoor metal wall sculpture; a massive art store; a small slice of items in the art store; The River Arts District renovated building for artists; a fiber artist explains natural materials.
Clockwise: View of the Blue Ridge Mountains; home studio and gallery of a potter; wood burning potter's kiln; view into the potter's gallery; porcelain bowl by late 1960's potter and iron oxide finished vase.
Clockwise: Grapes outlined the parking area at the vineyard; wrought iron artist market tent; broom maker putting the finishing stitches on our whisk broom; a room full of brooms made from "Corn-broom;" wrought iron Ginko leaf hook displayed with whisk broom.
Clockwise: View leaving the Vineyard; home studio of printmaker of enameled light switch covers; light switch cover in our home entryway; hand-built ceramist's home studio entrance and studio.
The "Come to Leicester 17th Annual Artist Studio Tour, 2022" was only a third of the art community we met, but getting a glimpse of their life of artistic practice was awe-inspiring with exhibition of an abundance of skill and creativity.
My hope is to see studio tours as this in Alaska. I was inspired to buy several items shown above including the enameled light switch cover for our entryway. I am glad I bought these–they bring a smile to my face.
---
---
Recent Work Exploring Shapes and Lines
I like shapes and lines and enjoyed exploring them within a Wild Iris photo I took at Reflections Lake, one of our favorite places for walks.
These are monotype prints using water based ink and colored pencil. Monotype is a term used to describe a print taken from a one-time printing matrix–never to be repeated again (except in the ghost print–but still it is never the same). The second print is a ghost print, which is made from taking advantage of leftover ink on the printing matrix. It is always a nice surprise.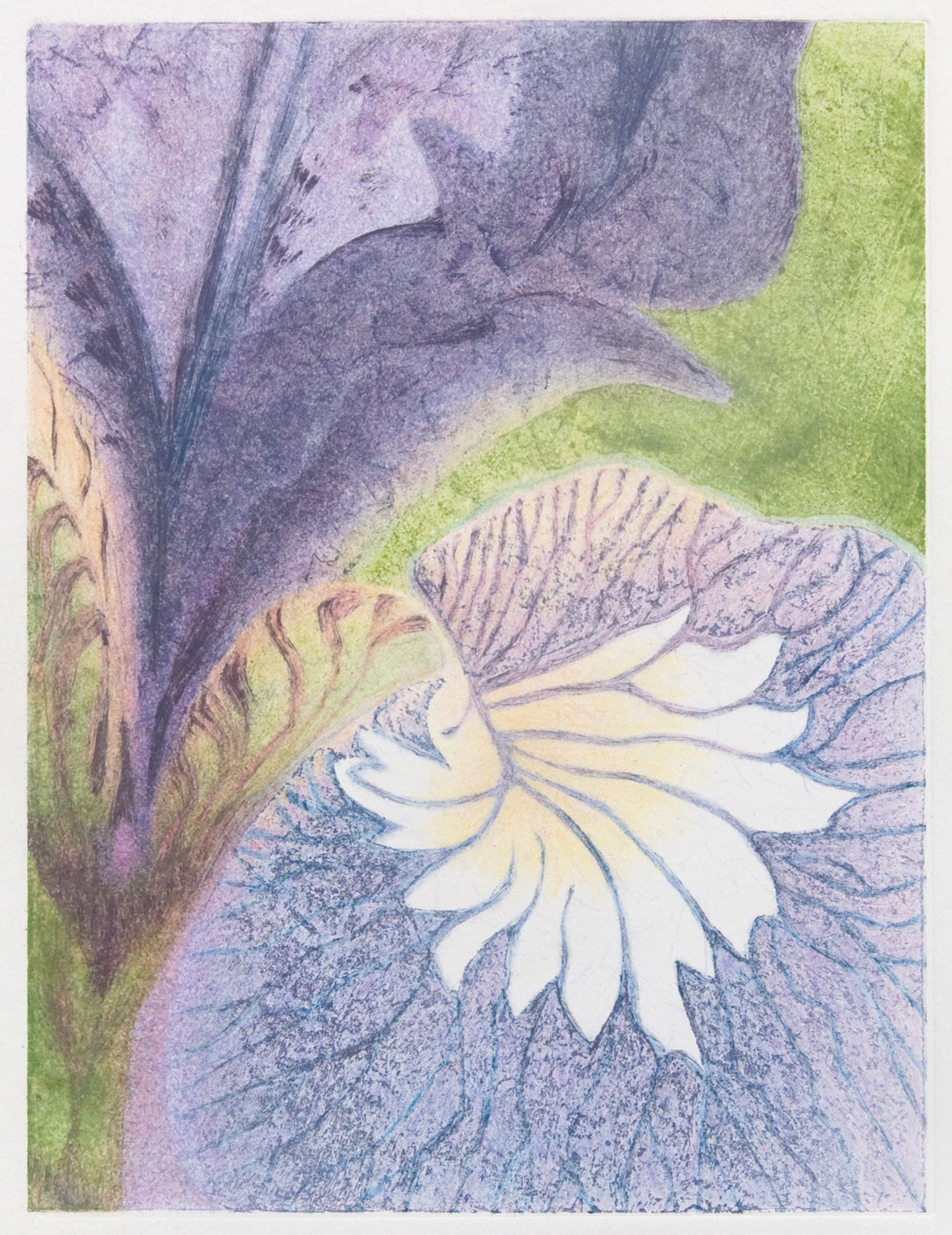 Wild Iris at Reflections Lake, ©2022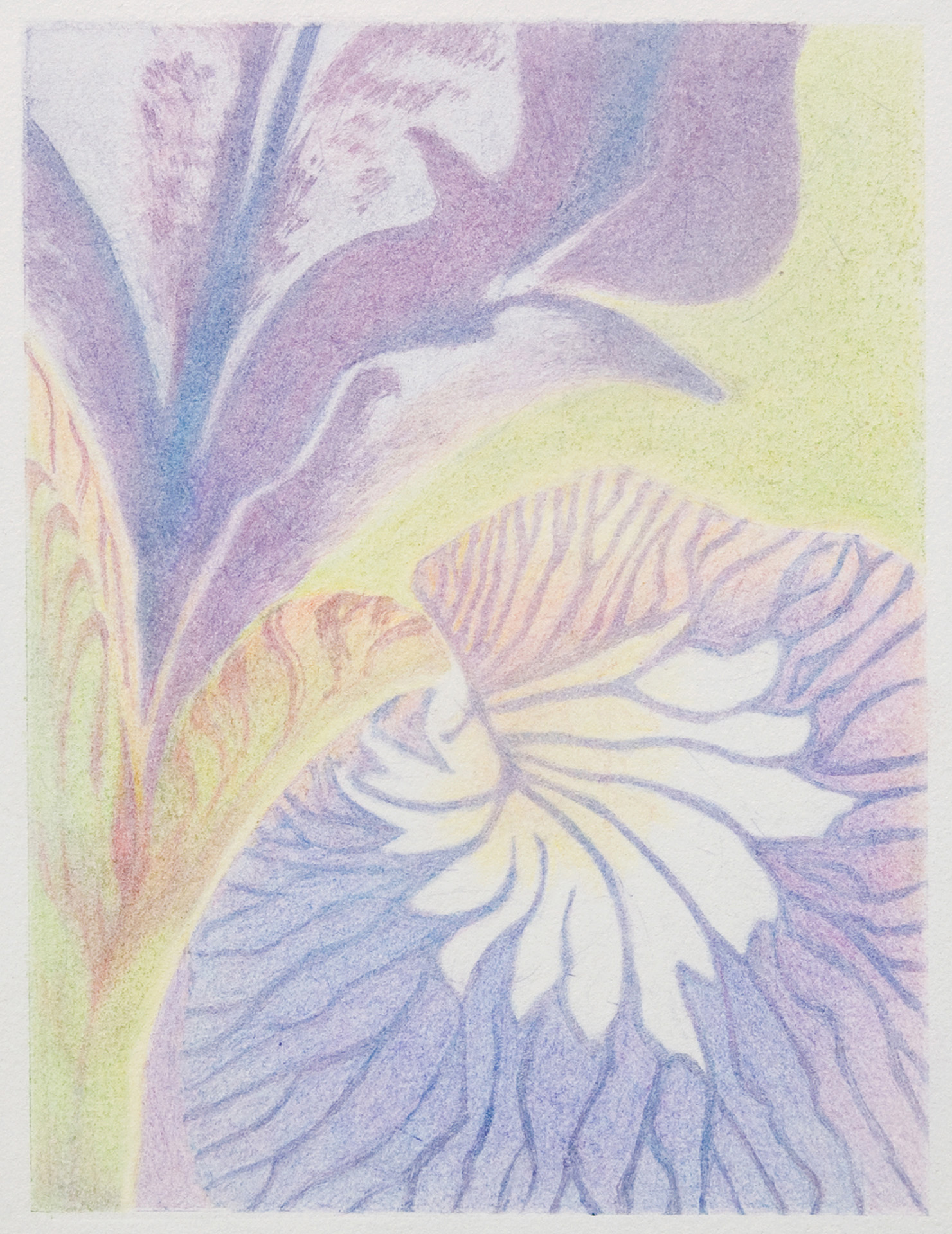 Wild Iris at Reflections Lake, ghost print, ©2022
---
---
Photo-screen Ornament Making – A Gift for You
A few years ago I was one of ten award artists selected for ornament design and lesson plan for the U.S. Capitol Christmas Tree, 2015. Alaska provided a Lutz Spruce tree from the Chugach National forest on the Kenai Peninsula.
These ornaments below, along with community members who participated in an ornament making workshop I taught in the first colonial school building at the Wasilla Museum, were sent to the U.S. CapitoI Building to decorate the National Christmas Tree and surrounding areas within and around of the Capitol Building.
I would like to acknowledge my dear artist-friend Melissa Hesselbach for showing me this process to create an ornament from one's own photo.
I am including my "Illuminating My Life in the Great Land – Alaska Photo-screen Ornament" Lesson Plan with instructions to make your own ornament using your own photos. Enjoy for this coming season!
---
---
Local Event – Alaska Biennial 2022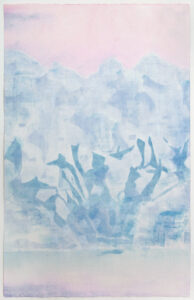 I am excited to share Winter Glacier has been selected to be in the Alaska Biennial 2022 exhibition at the Anchorage Museum from November 4, 2022 through March 5, 2023. Please see info below, as well a link provided for more information.
Daily
Anchorage Museum 625 C Street Anchorage, Alaska 99501
---
"Let us live in awe of the Lord our God... "
Jeremiah 5:24 NLT
---
Thank you and enjoy the season of harvest!

---
Please feel free to contact me with any questions at my email: [email protected]
---
You may leave a comment in the space provided below, which is very much appreciated . Thank you for visiting Horton House Press Studio Insider.